You have probably traversed the Internet on a Nostalgia hunt for Retro Video Games and have stumbled upon  "The Greatest NHL 95 Tourney in the World"
The great flick "Swingers" sums up the fun of 16 Bit NHL.
There are TONS of pages on this site.  Feel free to explore by either scrolling down or all the links above.
---
click above for historical polls
Rankings Release Pre Segathon 2018 Remember Puck Drop is at 3pm in the Ville of Lakes this Saturday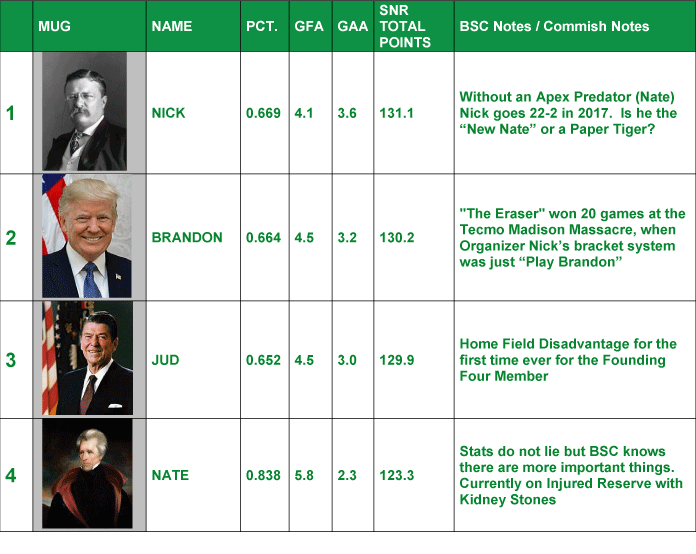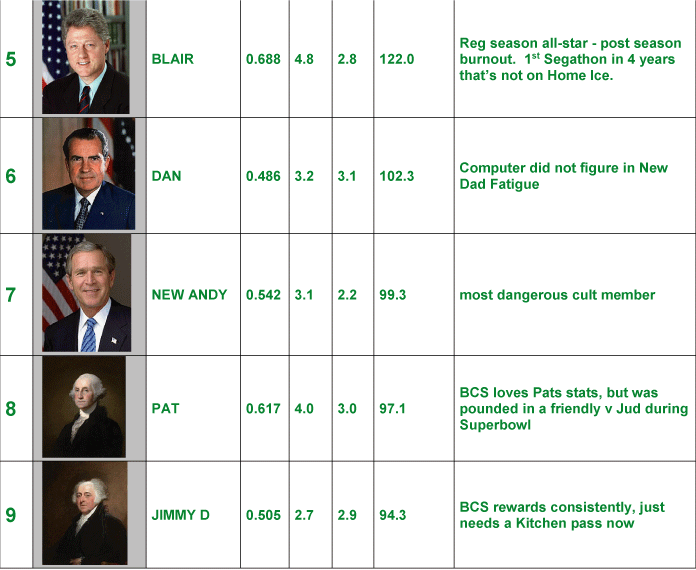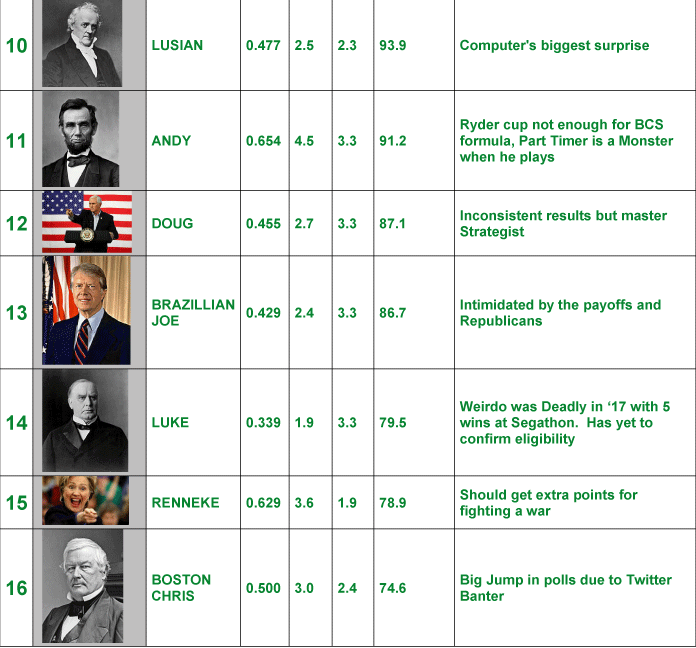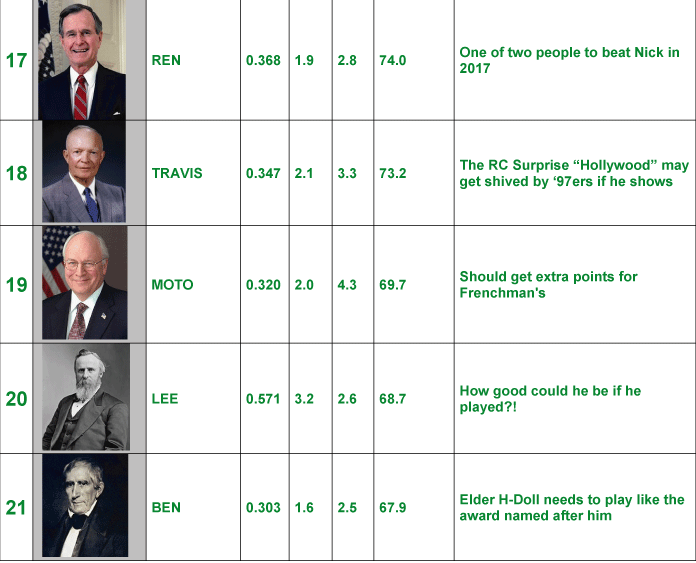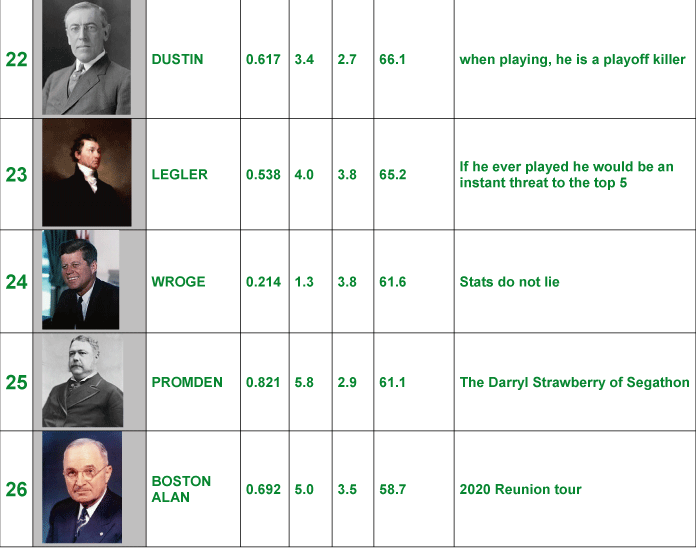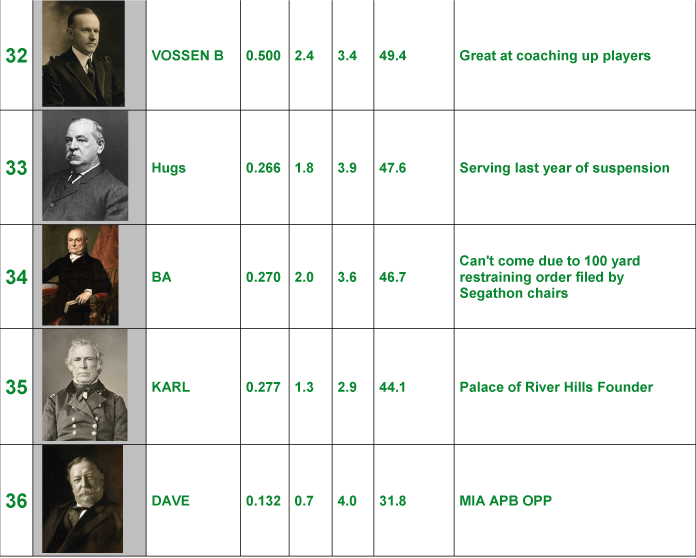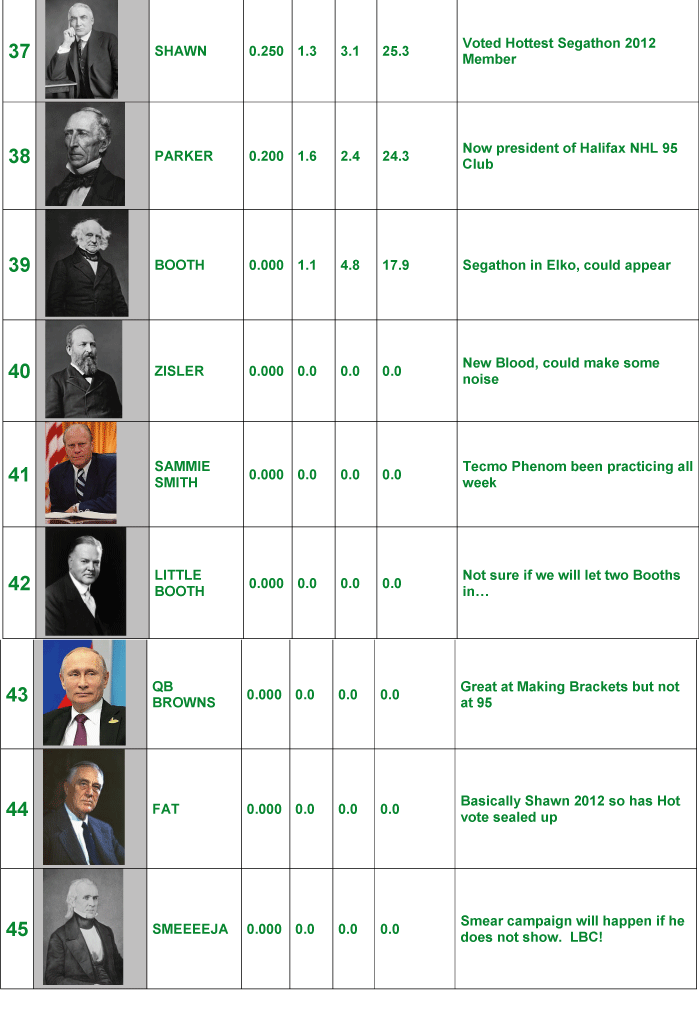 ---
Ryder Cup Devils 3 Way Complete.
97 Dominates over 98 and Cult of Ren
Recap up soon
---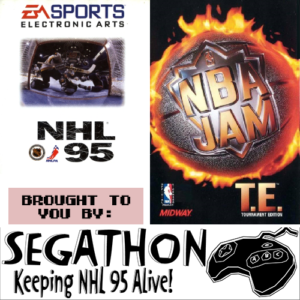 WHAT: NHL 95 Singles Tourney AND Doubles NBA JAM TE Tourney
WHERE:  High Noon Saloon, Madison Wisconsin
WHEN:  April 7th 6pm to 10pm
DETAILS:  $10 buy in per game, double elim.  Huge Trophy for Winner!
I WANT MORE DETAILS!:  Facebook page https://www.facebook.com/events/1883999558511805   and Tecmomadison site 
---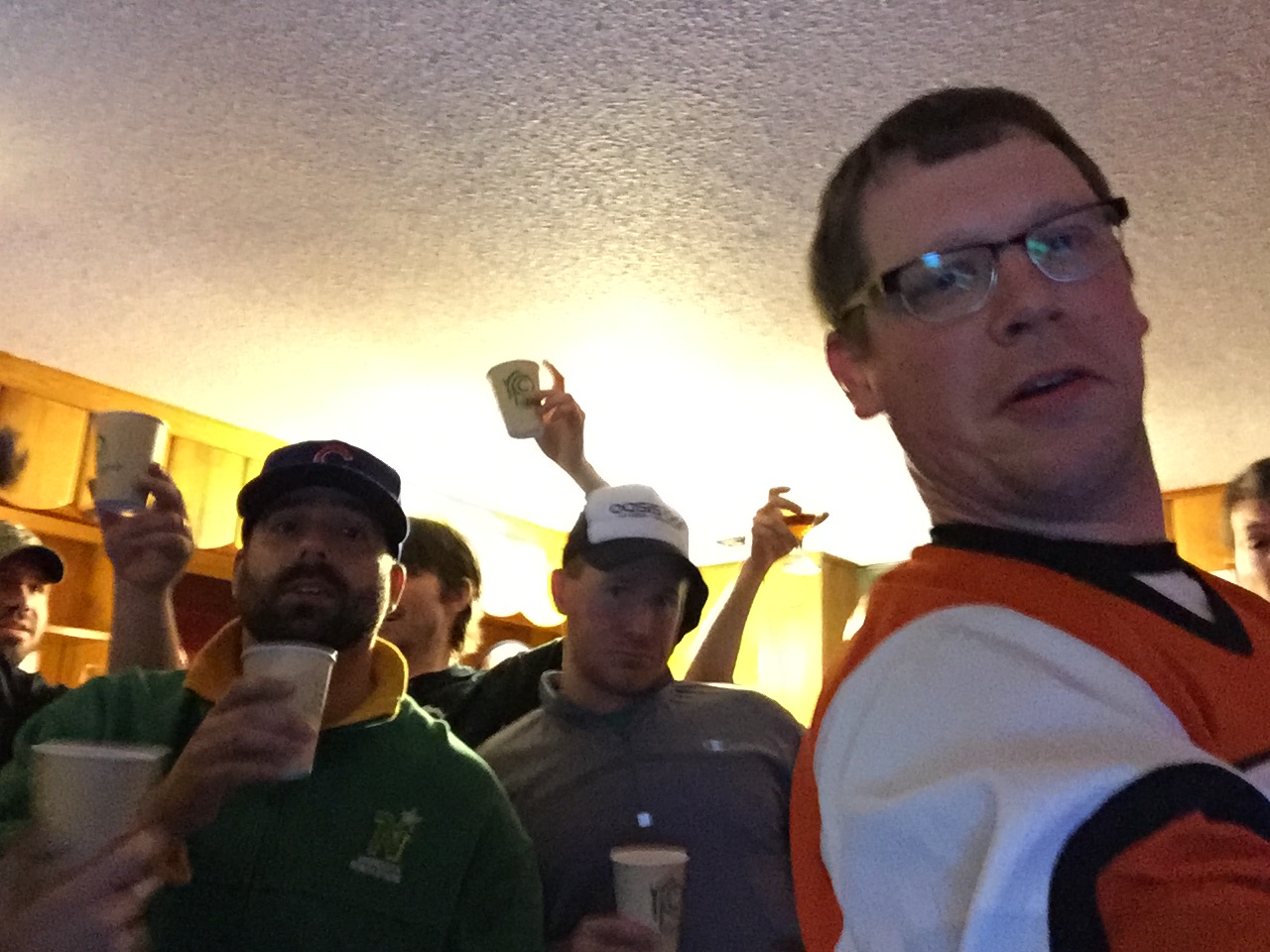 Nate the Great is OUT, new Champ in Click for Recap
---
RYDER CUP COMPLETE! Click Pic for Recap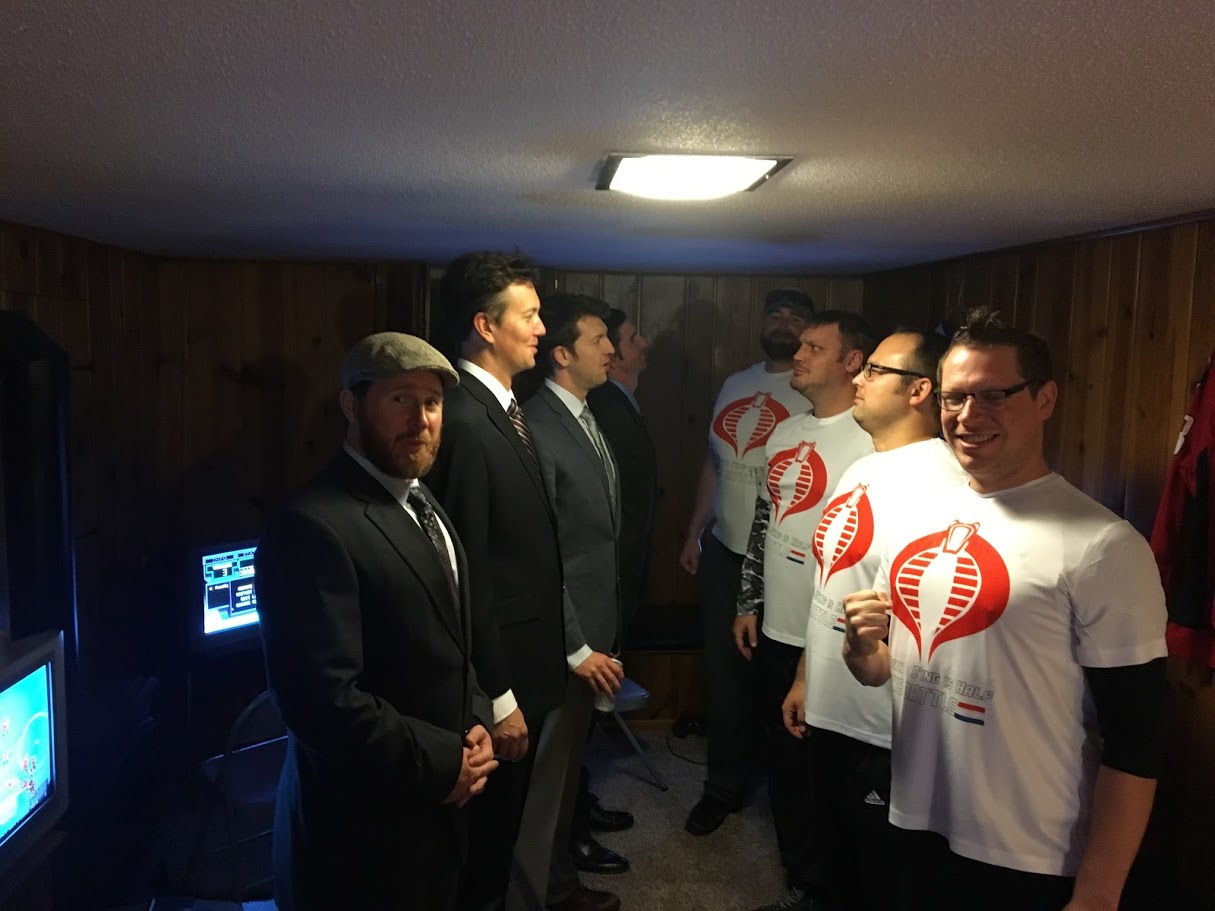 ---
SEGATHON 2016 Finally on site!  Only 8 months after Date

A crazy Segathon with Ryder Cup elements mixed in.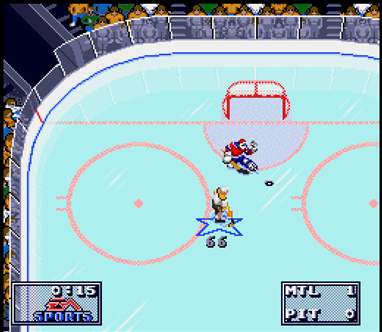 ---
click above for historical polls
Rankings Release Pre Segathon 2016 Ryder Cup.  Remember Puck Drop is at 3pm in Bichfield.
#FEB27ND  The Mating of two unholy beasts Segathon & Ryder Cup.  Stay tuned.
---
 SEGATHON 2015 RECAP
After a 11 month delay, its finally here  Click her for Recap
---
 Finally UP!  TEAM 98 WINS RYDER CUP 2014!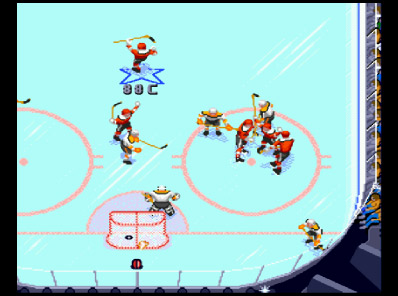 After a 18 month delay, its finally here  Click her for Recap
---
Finally UP!  SEGATHON 2014
Only 640 days since it ended to, walk down memory lane with us with no hangover  Click her for Recap
---
 TEAM 97 WINS RYDER CUP 2013!
97 WINS Closest RC ever (only .5pts) and are now Back To Back Champs!
Click Here for the Recap
---
SEGATHON 2013 COMPLETE!
Nate takes his Record 7th Championship, beating Pat, Both C1intons & Mauers for the Title!
Recap, Videos and Finnish Nhl95 Team Bashing finally up!
Stats are updated to, but not Statgasm
---
/
What: Segathon 2013
(10th Anniversary and the Last until the Mayans redo the calendar)
When: Saturday, February 2nd 2013
Where: Shamrock's Irish Nook
Time: 3:30 Arrive, 4:00 Puck Drop
PLEASE RSVP YOUR LOCAL SEGATHON OFFICIAL IF COMING
Click for more info
if you need code please email nhl95_a_thon@yahoo.com
---
Nick Wins Segathon beating Nate 3-2
Whole Game has been Youtube'd
Rest of game is at http://www.youtube.com/user/segathon?feature=mhee
Almost a year late the recap, stats and photos are up here
*Statgasm has not been updated yet
---
Good Luck to Tampere NHL95 and their Tourney. All of America, (ok maybe 6 of us) will be following your tourney tomorrow. When the NHL Lockout ends, you need to come to MN and we can watch Mikael Granlund (The Next Finnish Flash) and then we can have our epic Sega Battle of Finland vs USA
---
97 WINS IN A SHOCKER!
97 Upsets 98 In A SHOCKER……then gets beer on all of Nick's kids toys.
Final Score 31.50 pts to 29.75
Recap now up 2 months later!
---
SEGATHON 2012
First incomplete Segathon since 2006,
3 Loser Bracket Games left plus Finals.
Will it be completed, stay tuned.
---
RYDER CUP 2011 COMPLETE
98 DomiNATES 97 with the 2 Nates going 7-1
3-PEAT for Team 98
Click for Recap
---
Boston vs MN Complete
Boston comes out strong, but the Booze equilizer pushed MN over the Top
Nate wins the POP beating Brandon, Boston Alan and Boston Matt round out the Top 4
Click here for the Full recap
---
SEGATHON 2011
COMPLETE! Brandon takes his 1st Segathon Title!
Click Here  for Recap and Pics.
STATGASM have been updated
---
Segathon Cup aka Pat's Icebreaker Invitational
Thanks for everyone who turned out to the real Hockey Game that was played. Note to McGuire Rink Staff to have the rinks shoveled and if they are not shoveled have more than one working shovel for two rinks.
---
Practice Makes Perfect
Want to get some games in before the Tourney? Play as your favorite Segathon Stars or the NHL 95 Players with the Custom SEGATHON NHL 95 Program on your PC.
Click Here
 for more info.
---
STATGASM!
Top Segathon Brass has commissioned a state of the art Statistical program from NASA. Now you have sort able, interactive stats on Segathon.com. Along with Individual records for each person: including most goals in a game, home/away records and head to head stats against heated rivals. Click below to experience the glory of more stats!

---
Ryder Cup 2010
98 Wins Back to Back Ryder Cups!
Click Here for Recap
---
Good Luck Aki and the rest of the Tampereen NHL95-syksy Crew for your Autumn Tourney
We look forward to the day when entire social system fails…the world will have no currencies…and everyone will be judged on their Sega Megadrive NHL 95 skills. In honor of your league we will have our next championship series in a sauna, while drinking finlandia vodka and burning Ikea catalogs. Teemu Rules!
---
The Midsummer Classic POP Tournament 2010 COMPLETE!
Nate takes his record 5th Title to the Sounds of Vuvuzela Horns and Flabongos.
While Hayes makes TMZ for his latest Segathon indiscretion.
Click here for the Recap
Lifetime and Top Ten totals also up!
---
BÜSCH LEAGÜE GAMES 2010
(the umlaut is for doubles)
Complete! 11 Competitors show for the most high adrenaline BL games yet!
Click here for Recap
---
Segathon 2010 Complete!
After a 4 year drought, Jud wins the Belt beating Brandon in the Finals
Click Here For Recap.
Lifetime stats also updated
---
2009 AWARDS
Nate, Dave and Renneke were multi winners, click on pic for more info.
---
98 WINS RYDER CUP IN A NAIL BITER
---
Pan-O-Prog Midsummer Classic Complete
Upset special Nick ends Nates run as champion.
Renneke and Jud take the two remaining spots.
Click here for recap
Lifetime stats also up.
---
Busch League Games 2009 DUN!
Nate takes the BL and NHL Crown
click here for the recap
---
SEGATHON 2009 COMPLETE
Nate takes his 3rd Consecutive Segathon.
Click here for more info.
---
Team 97 wins Ryder Cup 08!
Click Here For Recap
---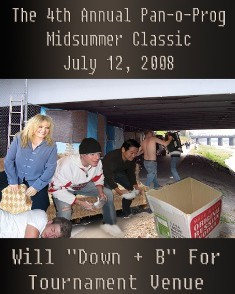 Nate is the First Grand Slam Winner
Click Here for Recap
The Midsummer Classic POP Tournament 08 COMPLETE!
---
The 2nd Annual Booshe League Games complete.
Nate takes the BL Crown while Blair takes NHL 95 Singles.
4 AM end time new record for this event.

Click Here for more info
---
SEGATHON 08 – Complete
The BIGGEST & BADDEST Segathon yet
Nate comes up through the losers bracket to take back to back segathons.
Click here for a full report
Lifetime stats have been updated also go to the "Results" Page to view
Awards ceremony pics and history are now up
---
SENATORS, GIANT THUMBS, BASEBALL, SEGATHON
---
RYDER CUP 2007
98 WINS!
98 squeaks out their first win ever in Ryder Cup Competition. 27.25 to 24.75.
Promden is named MVP going 3-1 for the 98 Team and playing doubles singlehandily.
Click Here for Recap
---
Pan-O-Prog / Midsummer Classic 2007
COMPLETE!
ASIAN INVASION!
Newcomers Promden and Billy take top two spots while Brandon and Nate fill out the remaining top 4.
Another record setting event as 19 competitors came to play!
To see more click here
---
WANG FOUNDATION OF THE FUTURE
Click on the picture to learn more about this historic event.
---
The 1st ever Busch League Games on April 14th is complete.
Blair takes the total points win while Nate takes the NHL 95 Tourney.
Click Here For Recap
---
*The Sac has been sold*
The second most fabled Segathon arena after the C1inton Basement, the Sac, has been sold. Host of Segathon 05, 06, POP 05 and Ryder Cup 06, this fabled arena has seen many hallowed games. Some say the closing was due to larger more state of the art arenas like Grant's Thunderdome, but the majority argee it was snizz related. Fans will bid farewell to the Sac in the Busche League Games April 14.
---
*BREAKING NEWS*
Team Fredrickson announces self imposed withdrawal from POP 07 playoffs. Read more about it here
---
SEGATHON 2007 is complete!
Nate The Greatwins his first Segathon coming up through the losers bracket beating Pat twice.
New Pics added 4-4-07. For more info Click Here.
---
RYDER CUP
97 takes down 98 with a heaping 27pts to15.5pts.
Andy and Blair carry the 97ers with a 61 combined goals
a 8-0 record against the field.
Click Her for Recap
---
Pan-O-Prog ends with the Class of 97 sweeping the Final Four with Jud, Andy, Blair and Travis Respectively.
The Andy and Jud battled playing 3 games against each other in the playoffs.
Andy was up big again in the final game but Jud scores 4 straight goals to win it.
Jud goes 11-1 and is the first competitor to hold the Segathon and Pan O Prog titles.
---
SEGATHON 2006 is Completed!
Andy beats Blair in a grueling OT match that included a Dog Reset in Overtime. Final Score7-6. Most penalties ever in a game.
Then Andy handles Nick in the first match up taking out his secret weapon Robert Reichel in the first few seconds and throwing Nick off his game with his new icing technique. Winning 6-4.
The second game Andy came out guns a blazing going up on Nick 6-2 and taking that lead until the 3 period. But then Nick had an unprecedented comeback scoring 5 goals in the 3rd taking Andy to OT at 7-7. The OT does not last long as Reichel shoots it pass Richter with 2 minutes into OT. Final Score 8-7 Nick in OT.
NHL 95 SEGA SEGA GENESIS SUPER NINTENDO ONLINE TOURNAMENT GENS KEGA NESTOPIA NESTICLE EA SPORTS NHL95 NHL 95 TOURNAMENT