Everybody knows that Detroit and Chicago have great teams, but almost all the teams in this game can do some damage. For instance, Hartford with a 64 rating is regularly used by vets.
Below you will Find the Following
A Google Sheet of Player Ratings
An updated Tier Break Down of Teams
Team Rankings and Starting Line up Notes
PLAYER RATINGS
I've been working on a waaay too detailed Player Rating system for the last couple years that probably a half a dozen people will ever read that I never got around to finishing so here is a quick google Doc to what it is with Letter Grades.
Before you Click on the link here are a few notes.
The actual game rates players on a number 6-0 Scale
Which COULD mean that a 98 rated guy and a 81 rated guy are the same ability
But I don't think that is the case from playing as I felt players at 81 play worse than a 98 guy
The HOT & COLD EA Rating Players ratings can vary +/- 10% from game to game.
Remember back in the 90's EA was RUTHLESS on Ratings famously giving Shawn Chambers a rating of 1 in NHL 93
On the Sheet I added a SEGATHON Rating that just counts the top Attributes (Speed, Agility, Stickhandling, Shot Power & Accuracy)
Here is the HEX Legend on Letter Grade Criteria…

NHL 95 Player Rating Letter Grades
TIERED TEAM BREAKDOWNS
This is the most updated Team breakdown with "Teirs" that is sometimes used in Tourney Play with a Dice Roll.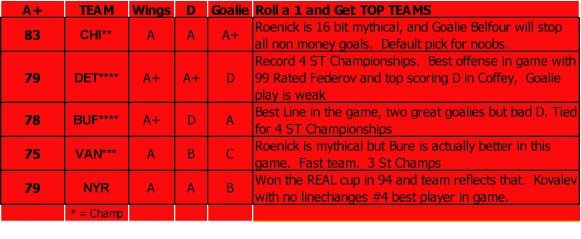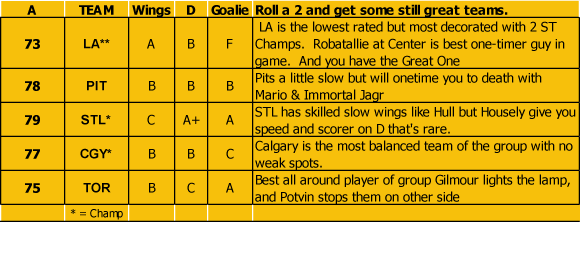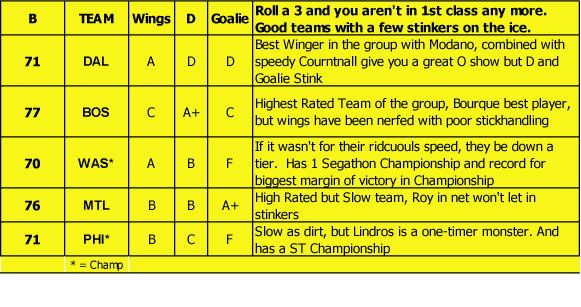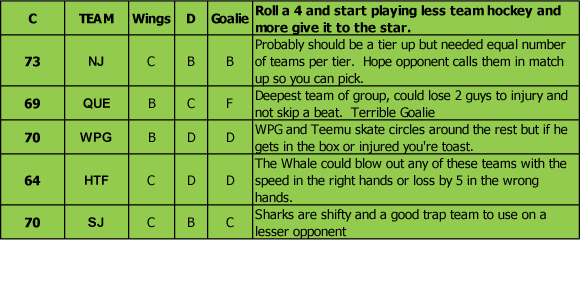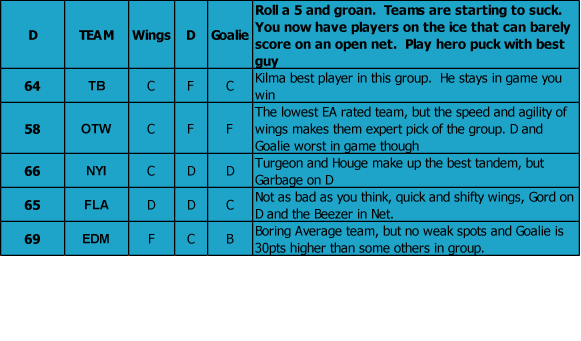 Below are ratings of the teams and their starting line up. There are also ratings by position, this can be deceiving since one real good or really bad started can throw the rating off.
This is a little older ranking from the above but still useful.
"ST RANK" which is probably a better rating the the standard CPU rating. ST RANK figures in how the team plays man v man.
Some of the CPU rated teams fell/rose if they did/didn't have a good one timer center (-MTL/+LA) bad stick handling (-BOS/+QUE) or just a slower team (-STL/+VAN)
---
Top Players of NHL 95
Players ratings can vary +/- 10% from game to game.