The Robin to Segathon's Batman.  The Midsummer Classic held during the Panorama Of Progress in Lakeville Minnesota was Segathon's response to the Rabid Segathon fan base wanting another event.  At one time in the early Web, when someone Googled Pan O Prog and Tourney,  the 1st result was Segathon.  Take that Softball and Backgammon Tourneys!
Unlike the Segathon Belt, that travels around more than the Judson/Clinton Crazy IRA Bus Rider Story.  The Champion is awarded the Golden Controller.  A Spray painted broken Sega controller in Real Fake Gold.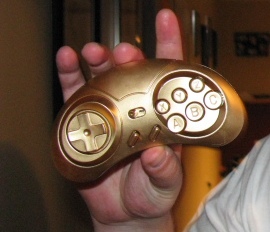 Normally competitors are sporting the mystical "2nd Day Tolerance" as they have partied during the day at the Elko Golf Tourney and that night at Cruise Night / Babes.
Sadly the last POP Tourney was held in 2011 when the venue was Moved to St Paul's Shamrocks.
There is a clamoring every year to "BRING BACK POP" but have not gotten a Super Majority Approval from League Owners to start the games back up.
Click below to view past events, and email nhl95_a_thon@yahoo.com for password.