WHERE:  Blair's P-Pad Penalty Box 7205 1st Ave S, Richfield
WHEN: Febuary 7nd
BOOZE:  97 will have 7 cases of Oat Soda.
SEGATHON Roster (Pre Tournament)
Blair – Took 3rd at ST, but has Home Field Disadvantage
Dan – Now in the History Books with a Final 4 Appearance.
Jud – 11-3 at ST and a 2nd Place Finish
Nick – A little Rusty with a  .500 record in 2014
Nate – We are all in BIG TROUBLE
Luke – Missed ST 14 due to Reptilian Tumors, ready to get Weird.
Wroge – I heard he ate Luke's Reptilian Tumors that really weird.
Brazil Joe – a Dazzling  6-2 Record before Disappearing in Playoffs
Doug – Another Ren Disciple that went 5-3 in Reg Season.
Jimmy – One Loss away from Final 4 Last year
Lusian – Made some Noise in Playoffs last year, hope it doesn't snow.
Brandon – Missed his 1st ST ever last year, lets remind him of that.
Ben – Making his 1st appearance since 2009, will we recognize him? or just think Nick is in two places?
Probable
Moto – Turing into a regular at these things will he make 4 in a row?
Andy Z – Hope it's on his Outlook Calendar
Travis – If he misses, we are replacing him with the Phenome Travis 4.0
Grant – Leland is 3 but now has the vocabulary of a 6th Grader from Elko.
ON TO THE GAMES
Games started with a buzz when we heard that there will be a Documentary on NHL 94, NHL 95s little Brother
Games were held at Blair's Richfield's P Pad after he signed a Lifetime Contract with Segathon Inc after Segathon 2014
Segathon Inc hopes to put in a better Ventilation System for next year as the Fart smell was hard to handle
This Segathon was held under the hastag #Feb7nd. An ode to the many misspellings and grammar on this site.  We have a strict no proofreading policy.
The biggest and best change that was instituted in Segathon 2014 was the match up.  But in 2014 you could pick any two teams.  This year there were tiers so all teams have to be used.  Took this idea from Tomczak Bowl, THE Premier Tecmo Bowl Tourney in Waterloo Iowa.  http://tecmotourney.blogspot.com/
You roll a Die to pick the tier then roll again to see who picks the match up.  If you roll a "6" you get the worst Match Up in Game Ducks vs Oilers which was a surprisingly balanced matchup,  as they spilt 3-3 when games ended.  Other popular Matchups were: Dallas vs Boston (3-1), Rangers vs Detroit (3-1!), Chicago vs Detroit (2-2), Calgary vs Vancouver (2-1), Florida vs Islanders (2-1) & San Jose vs Tampa (2-1)
Games were fun as always but Nate Dominates as always.
Here are the stats.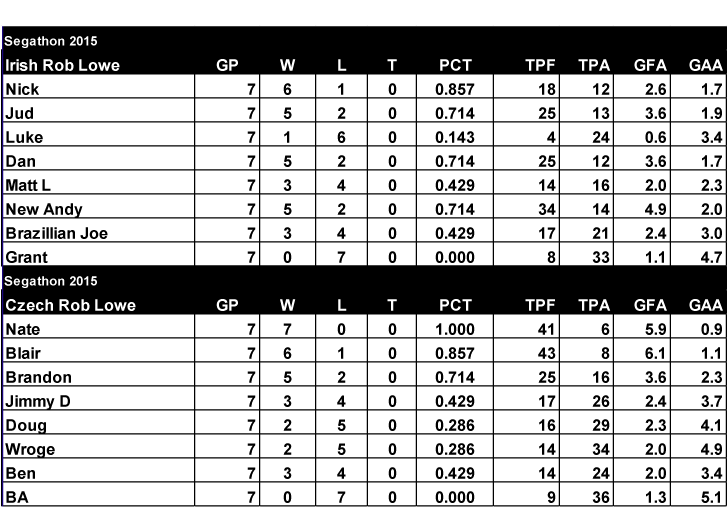 IRL Division was a fight at the top with Nick edging out Jud, Dan and New Andy, while CRL Division was the Nate and Blair Show.
Divisions were names after those Rob Lowe Commercials, which were sweeping the nation.  Was hilarious in 2014 now kinda a "yeah baby" Austin powers joke in 2016.
Here is the Game Log, it's a Google Doc Plugin, so you have to scroll to see it all
SEGATHON PLAYOFFS
In the End Nate the Great cannot be denied winning his 3rd straight Segathon (9th Major!)  Blair comes in 2nd, Brandon 3rd and Nick 4th.
Probably the most Low Key Segathon ever.  Which we think is a good thing??  We are getting old!  Maybe we need to inject Segathon 2016 with some HUG LIFE!?!
To Be Continued…..