One of the most unique Segathons to date.
With real life encroaching into all our fun time, the Ryder Cup in 2015 was lost.
In order to save the fabled Cup, Segathon Top Brass combined Ryder Cup 2015 with Segathon 2016.
A full Ryder Cup would be played (with Doubles) then straight to the Segathon Playoffs.
It was held on the nicest day ever in Feb in MN.  Some games were played outside.
You ask yourself, "Ryder Cup is only 8 people total!  How will you expand it to double or triple the numbers?"  "How will team be selected?"
Well there was quite a shake up.  Ryder Cup vets on both sides stayed on their respective teams.
Then a Combine and Draft was held for 96ers & the Cult of Ren. When it was all said and done Ryder Cup went 9 on 9 with even a few 97ers sneaking on the 98 team.
In order to unify the games Classes were thrown out and the the RC teams we renamed "Team Tits" & "Team Ass"
Here were the Rankings before the Games.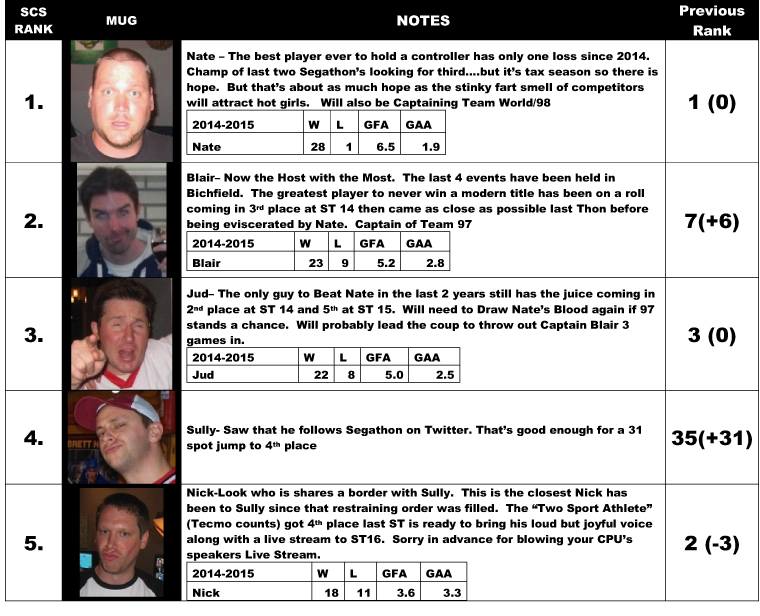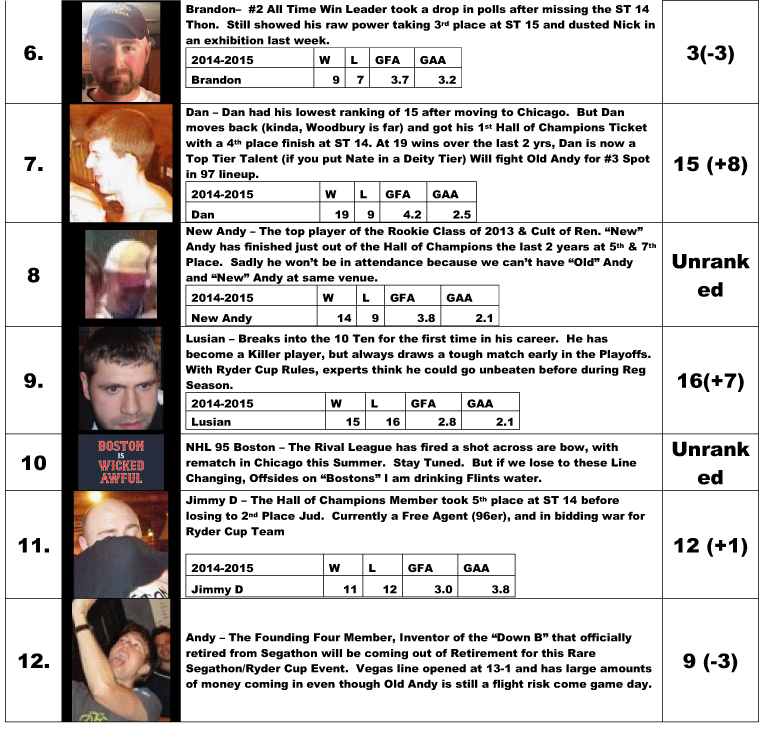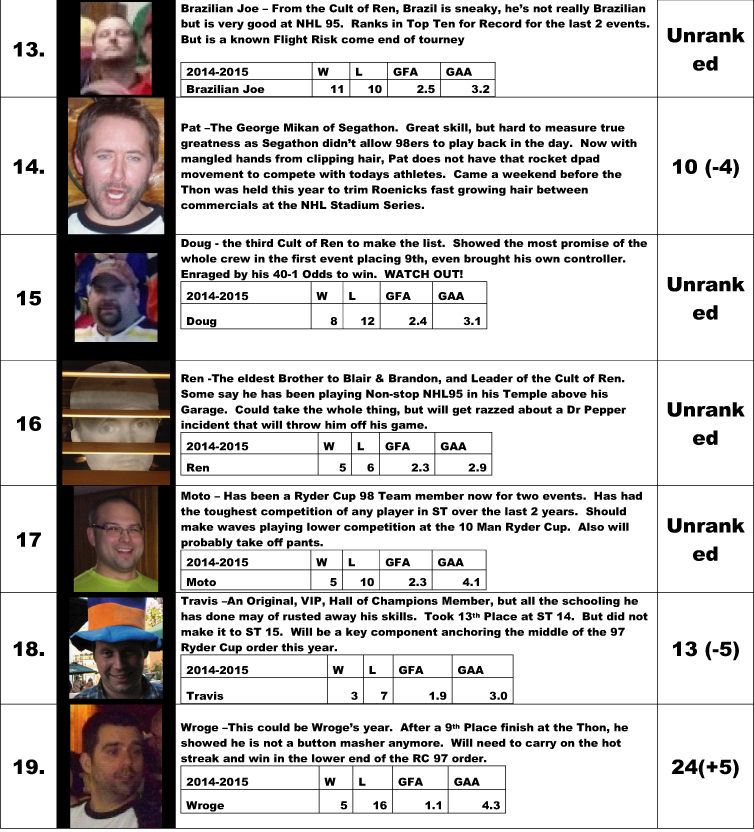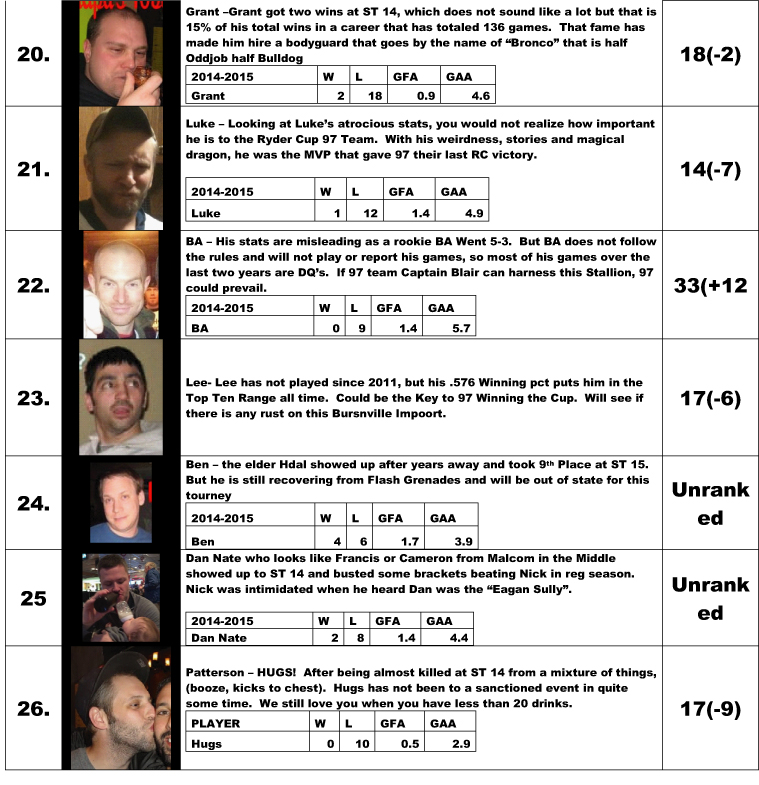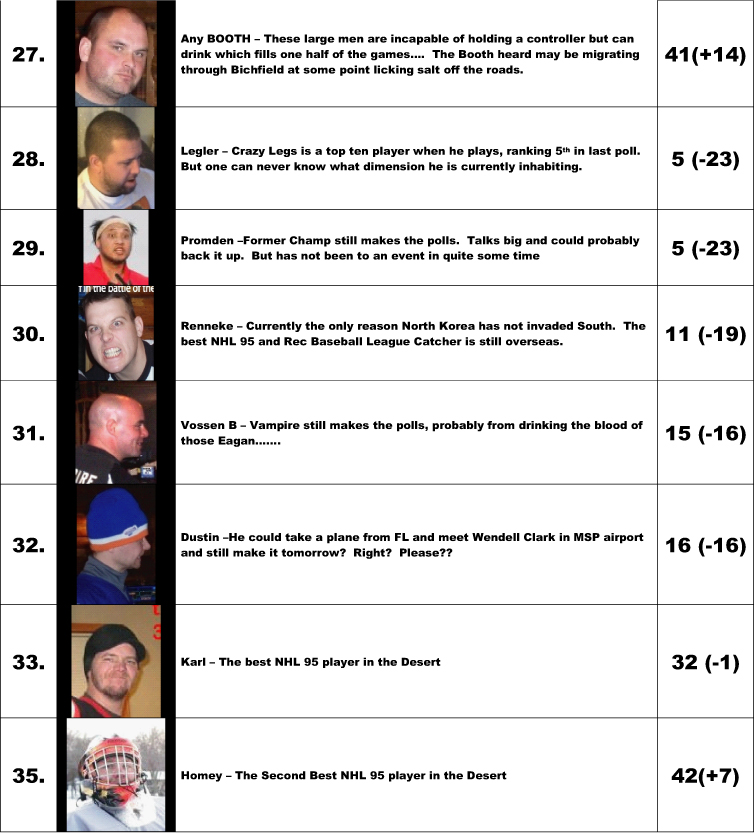 Team Tits (98) Led by Captain #1 Nate vs Team Ass (97) Led by Captain #2 Blair.
Same RC rules as before, where you have to use every team (now twice) and extra points for shut outs etc, but we switched to 5 Minute Periods.
First 3 games you played 3 games against like skilled players.  Brandon vs Jud, Lusian vs Doug, Dan vs Luke.
Next 3 games were equalizer games where teams took turns picking match ups.  Mostly exploiting them with Top guys going against Button Mashers.  Think Michigan playing Rutgers this year. 
Finally the doubles games were played.  As always games came down to final rnd!
Because Nick's hermit living in a Chicken Coop his nerdiness has grown and he figured out a way to live broadcast the games to fellow virgins
Many games were live on Twitch where we had a record 3 followers watching it Live.
You can go to https://www.twitch.tv/segathonsov/videos/all and watch all of them but have embedded some of the better ones.
Here's were the stats.  The Fractional Scoring was a BIITCH!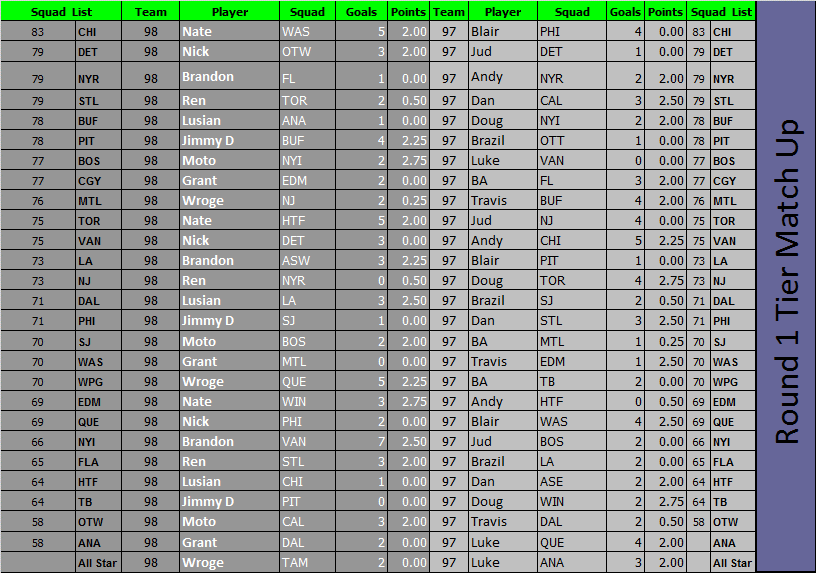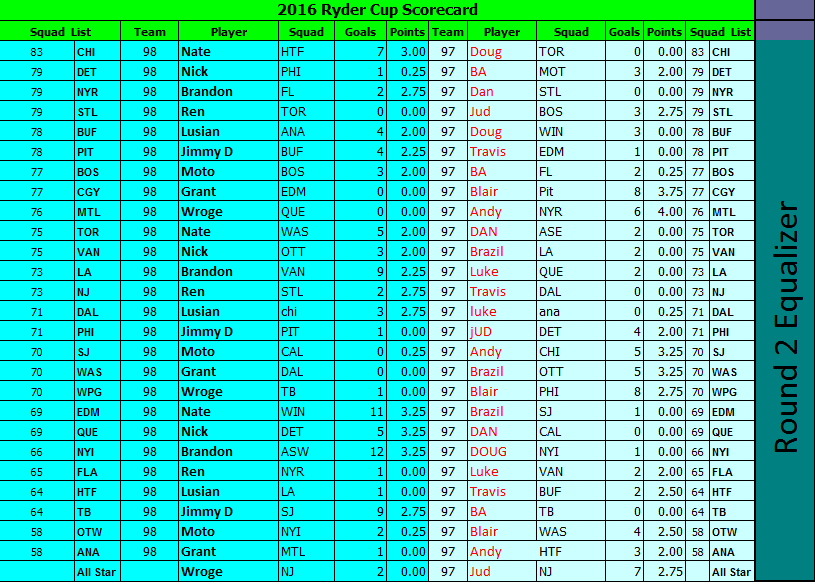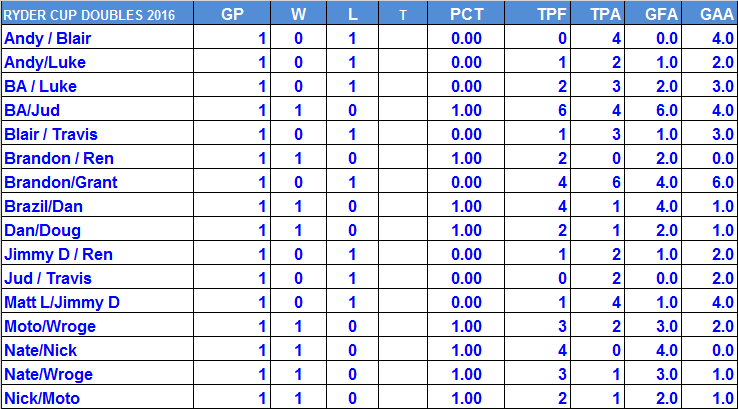 Team Tits (98 squeaks out the win with the Goal Bonus adding the cushion)
Now on to Segathon Playoffs.  Much confusion when this started as most people had no clue what was going on.
The leaders were either too drunk or trying to break down the complicated fractional scoring of Ryder Cup.
RC Record determined your seed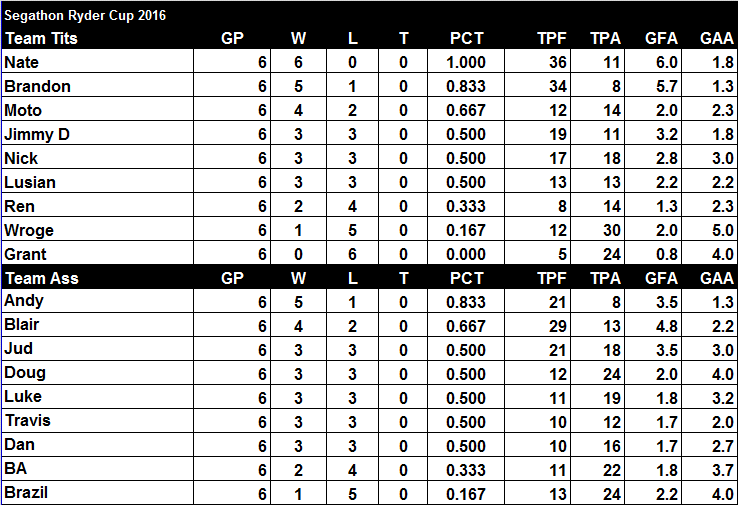 Here are some twitch highlights.  Again you can try to find all of them at https://www.twitch.tv/segathonsov/videos/all
Amazing Game with Brandon vs the Cinderella Doug.  Doug was up big and Brando starts working his way back.  Here is part 2 of the video
Here is Part 1 of Winners Bracket Final.  Some high level NHL 95 here.
Intense Losers Bracket Final Tied 3rd Period Jud vs Brandon tied 7-7.  Good game of Manual Goalie vs Auto Goalie and great D.
Of course the final bracket with Dicks drawn on it.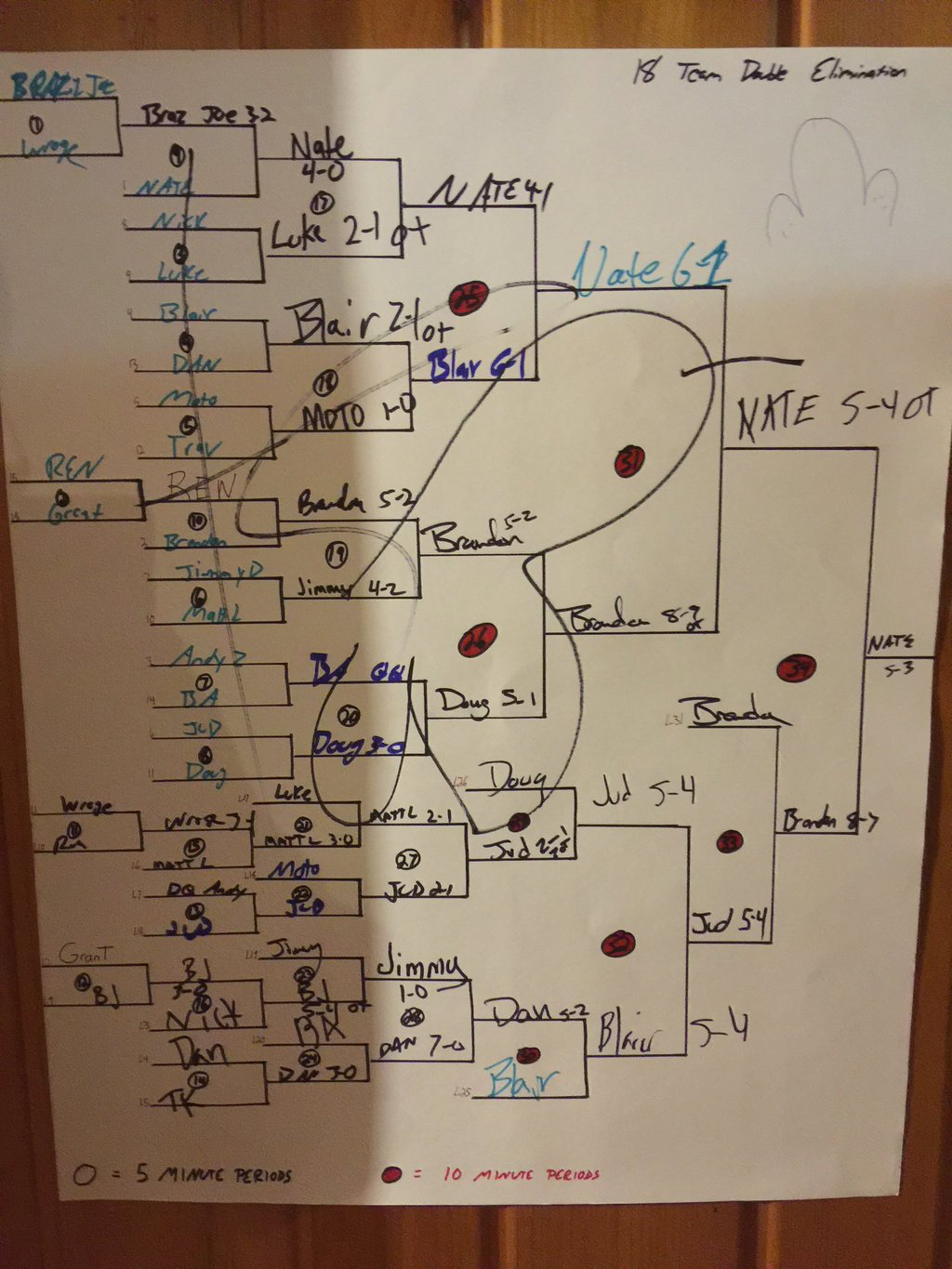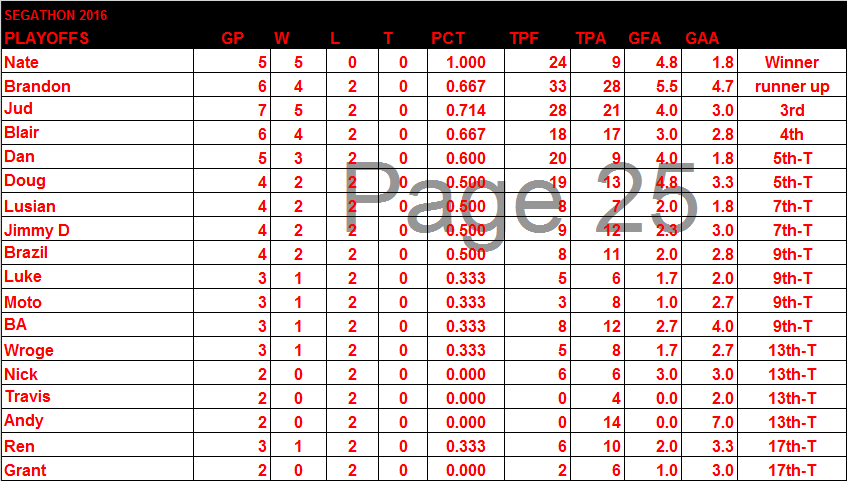 Couple big names drop early as Andy leaves before playoffs to a chorus of boos and Nick does not win a playoff game, losing to Luke below in an Outdoor game.
Doug makes big waves make it very far but the usual's fight it out for 2nd place.  Nate wins it like he always did.
Great times as always.
Lifetime stats are updated AND sortable.  The wonders of the internets.  Click here For all of them.  Lifetime is below.
| LIFETIME TOTALS | GP | W | L | T | PCT. | GF | GA | GFA | GAA |
| --- | --- | --- | --- | --- | --- | --- | --- | --- | --- |
| JUD | 265 | 171 | 92 | 2 | 0.645 | 1205 | 811 | 4.5 | 3.1 |
| BRANDON | 263 | 174 | 89 | 0 | 0.662 | 1177 | 842 | 4.5 | 3.2 |
| NICK | 261 | 173 | 86 | 2 | 0.663 | 1071 | 947 | 4.1 | 3.6 |
| BLAIR | 248 | 169 | 78 | 1 | 0.681 | 1188 | 710 | 4.8 | 2.9 |
| NATE | 247 | 207 | 40 | 0 | 0.838 | 1428 | 574 | 5.8 | 2.3 |
| DAN | 204 | 99 | 105 | 0 | 0.485 | 656 | 646 | 3.2 | 3.2 |
| ANDY | 200 | 130 | 70 | 0 | 0.650 | 896 | 669 | 4.5 | 3.3 |
| LUKE | 165 | 56 | 109 | 0 | 0.339 | 317 | 544 | 1.9 | 3.3 |
| GRANT | 153 | 13 | 140 | 0 | 0.085 | 130 | 685 | 0.8 | 4.5 |
| TRAVIS | 113 | 41 | 72 | 0 | 0.363 | 246 | 371 | 2.2 | 3.3 |
| JIMMY D | 97 | 49 | 48 | 0 | 0.505 | 261 | 277 | 2.7 | 2.9 |
| PATTERSON | 94 | 25 | 69 | 0 | 0.266 | 166 | 366 | 1.8 | 3.9 |
| MATT L | 86 | 41 | 45 | 0 | 0.477 | 212 | 194 | 2.5 | 2.3 |
| MARC | 78 | 29 | 49 | 0 | 0.372 | 142 | 248 | 1.8 | 3.2 |
| WROGE | 70 | 15 | 55 | 0 | 0.214 | 90 | 263 | 1.3 | 3.8 |
| BEN | 66 | 20 | 46 | 0 | 0.303 | 108 | 168 | 1.6 | 2.5 |
| PAT | 60 | 37 | 23 | 0 | 0.617 | 242 | 177 | 4.0 | 3.0 |
| LEE | 56 | 32 | 24 | 0 | 0.571 | 181 | 145 | 3.2 | 2.6 |
| DAVE | 53 | 7 | 46 | 0 | 0.132 | 38 | 212 | 0.7 | 4.0 |
| BRAZILLIAN JOE | 48 | 21 | 27 | 0 | 0.438 | 119 | 156 | 2.5 | 3.3 |
| DUSTIN | 47 | 29 | 18 | 0 | 0.617 | 162 | 126 | 3.4 | 2.7 |
| DOUG | 47 | 23 | 24 | 0 | 0.489 | 135 | 150 | 2.9 | 3.2 |
| MIKE | 47 | 16 | 31 | 0 | 0.340 | 66 | 133 | 1.4 | 2.8 |
| KARL | 47 | 13 | 34 | 0 | 0.277 | 61 | 138 | 1.3 | 2.9 |
| MOTO | 42 | 15 | 27 | 0 | 0.357 | 83 | 186 | 2.0 | 4.4 |
| NEW ANDY | 40 | 25 | 15 | 0 | 0.625 | 136 | 82 | 3.4 | 2.1 |
| BA | 37 | 10 | 27 | 0 | 0.270 | 74 | 134 | 2.0 | 3.6 |
| BILLY | 36 | 28 | 8 | 0 | 0.778 | 167 | 70 | 4.6 | 1.9 |
| RENNEKE | 35 | 22 | 13 | 0 | 0.629 | 125 | 68 | 3.6 | 1.9 |
| MOGY | 35 | 16 | 19 | 0 | 0.457 | 50 | 117 | 1.4 | 3.3 |
| DW | 34 | 23 | 11 | 0 | 0.676 | 105 | 95 | 3.1 | 2.8 |
| REN | 30 | 11 | 19 | 0 | 0.367 | 54 | 80 | 1.8 | 2.7 |
| PROMDEN | 28 | 23 | 5 | 0 | 0.821 | 162 | 80 | 5.8 | 2.9 |
| JARED | 25 | 9 | 16 | 0 | 0.360 | 89 | 121 | 3.6 | 4.8 |
| COLIN | 20 | 5 | 15 | 0 | 0.250 | 19 | 46 | 1.0 | 2.3 |
| ZEKE | 19 | 7 | 12 | 0 | 0.368 | 41 | 53 | 2.2 | 2.8 |
| HOLMBERG | 18 | 1 | 17 | 0 | 0.056 | 10 | 98 | 0.6 | 5.4 |
| BOOTH | 16 | 0 | 16 | 0 | 0.000 | 17 | 76 | 1.1 | 4.8 |
| VOSSEN B | 14 | 7 | 7 | 0 | 0.500 | 33 | 47 | 2.4 | 3.4 |
| BOSTON ALAN | 13 | 9 | 4 | 0 | 0.692 | 65 | 45 | 5.0 | 3.5 |
| LEGLER | 13 | 7 | 6 | 0 | 0.538 | 52 | 49 | 4.0 | 3.8 |
| TED | 13 | 6 | 7 | 0 | 0.462 | 30 | 31 | 2.3 | 2.4 |
| BOSTON MATT | 12 | 9 | 3 | 0 | 0.750 | 50 | 29 | 4.2 | 2.4 |
| BOSTON WALTER | 12 | 8 | 4 | 0 | 0.667 | 31 | 31 | 2.6 | 2.6 |
| WATERS | 12 | 4 | 8 | 0 | 0.333 | 19 | 38 | 1.6 | 3.2 |
| BRETT W | 11 | 4 | 7 | 0 | 0.364 | 24 | 29 | 2.2 | 2.6 |
| DETRIOT JOE | 11 | 4 | 7 | 0 | 0.364 | 21 | 27 | 1.9 | 2.5 |
| HAYES | 10 | 6 | 4 | 0 | 0.600 | 18 | 26 | 1.8 | 2.6 |
| MARK | 10 | 5 | 5 | 0 | 0.500 | 25 | 26 | 2.5 | 2.6 |
| BOSTON CHRIS | 10 | 5 | 5 | 0 | 0.500 | 30 | 24 | 3.0 | 2.4 |
| BOSTON DAVE | 10 | 4 | 6 | 0 | 0.400 | 22 | 25 | 2.2 | 2.5 |
| SULLY | 10 | 3 | 7 | 0 | 0.300 | 14 | 39 | 1.4 | 3.9 |
| BOSTON JIM | 10 | 3 | 7 | 0 | 0.300 | 19 | 44 | 1.9 | 4.4 |
| ONEIL | 10 | 2 | 8 | 0 | 0.200 | 16 | 43 | 1.6 | 4.3 |
| BOSTON JOE | 10 | 2 | 8 | 0 | 0.200 | 20 | 40 | 2.0 | 4.0 |
| DAN NATE | 10 | 2 | 8 | 0 | 0.200 | 14 | 44 | 1.4 | 4.4 |
| PETE | 10 | 0 | 10 | 0 | 0.000 | 9 | 45 | 0.9 | 4.5 |
| RATH | 10 | 0 | 10 | 0 | 0.000 | 2 | 56 | 0.2 | 5.6 |
| BRETT | 9 | 4 | 5 | 0 | 0.444 | 21 | 29 | 2.3 | 3.2 |
| STURGY | 9 | 3 | 6 | 0 | 0.333 | 15 | 28 | 1.7 | 3.1 |
| ELSWORTH | 9 | 3 | 6 | 0 | 0.333 | 15 | 28 | 1.7 | 3.1 |
| BRYAN | 9 | 2 | 7 | 0 | 0.222 | 11 | 19 | 1.2 | 2.1 |
| JON | 9 | 2 | 7 | 0 | 0.222 | 5 | 31 | 0.6 | 3.4 |
| VOSSEN | 9 | 2 | 7 | 0 | 0.222 | 11 | 22 | 1.2 | 2.4 |
| BOSTON RYAN | 9 | 2 | 7 | 0 | 0.222 | 12 | 23 | 1.3 | 2.6 |
| BISON BEN | 9 | 1 | 8 | 0 | 0.111 | 5 | 29 | 0.6 | 3.2 |
| TREVOR | 9 | 1 | 8 | 0 | 0.111 | 6 | 40 | 0.7 | 4.4 |
| KUZEL | 8 | 5 | 3 | 0 | 0.625 | 24 | 17 | 3.0 | 2.1 |
| CARL | 8 | 2 | 6 | 0 | 0.250 | 10 | 27 | 1.3 | 3.4 |
| ERIK | 8 | 2 | 6 | 0 | 0.250 | 11 | 37 | 1.4 | 4.6 |
| SHAWN | 8 | 2 | 6 | 0 | 0.250 | 10 | 25 | 1.3 | 3.1 |
| WOODY | 8 | 1 | 7 | 0 | 0.125 | 4 | 42 | 0.5 | 5.3 |
| NELSON | 8 | 1 | 7 | 0 | 0.125 | 17 | 28 | 2.1 | 3.5 |
| MADDEN | 8 | 1 | 7 | 0 | 0.125 | 6 | 37 | 0.8 | 4.6 |
| NEIL | 8 | 0 | 8 | 0 | 0.000 | 5 | 24 | 0.6 | 3.0 |
| EVAN | 7 | 3 | 4 | 0 | 0.429 | 14 | 19 | 2.0 | 2.7 |
| ALEX | 7 | 2 | 5 | 0 | 0.286 | 11 | 17 | 1.6 | 2.4 |
| TERRY | 7 | 1 | 6 | 0 | 0.143 | 6 | 22 | 0.9 | 3.1 |
| SCOTT | 7 | 1 | 6 | 0 | 0.143 | 14 | 23 | 2.0 | 3.3 |
| CARLOS | 7 | 0 | 7 | 0 | 0.000 | 5 | 26 | 0.7 | 3.7 |
| PARKER | 5 | 1 | 4 | 0 | 0.200 | 8 | 12 | 1.6 | 2.4 |
| GREG | 3 | 1 | 2 | 0 | 0.333 | 5 | 12 | 1.7 | 4.0 |
| TOM | 3 | 1 | 2 | 0 | 0.333 | 16 | 22 | 5.3 | 7.3 |
| GOLBY | 2 | 0 | 2 | 0 | 0.000 | 2 | 9 | 1.0 | 4.5 |