The 15th Segathon in the Modern Era was held Feb 11th in Bitchfield where top NHL 95 players played for 2nd place as Nate the Great always wins.
Like pro athletes in the 1950's most have not picked up a controller from the time in between tourneys but a day or two before practicing begins
Here were the Rankings Pre Segathon 2017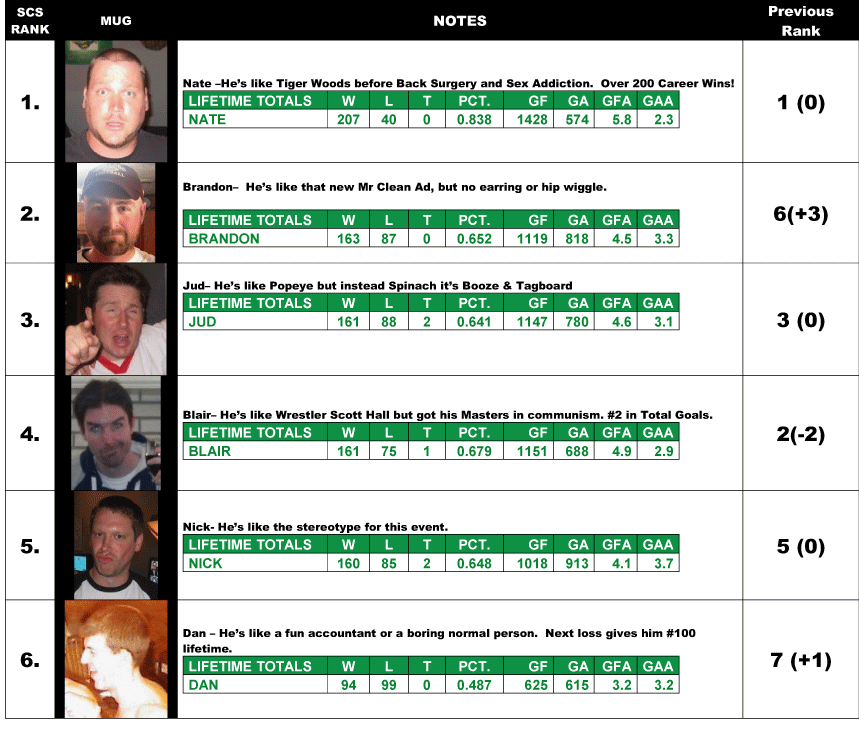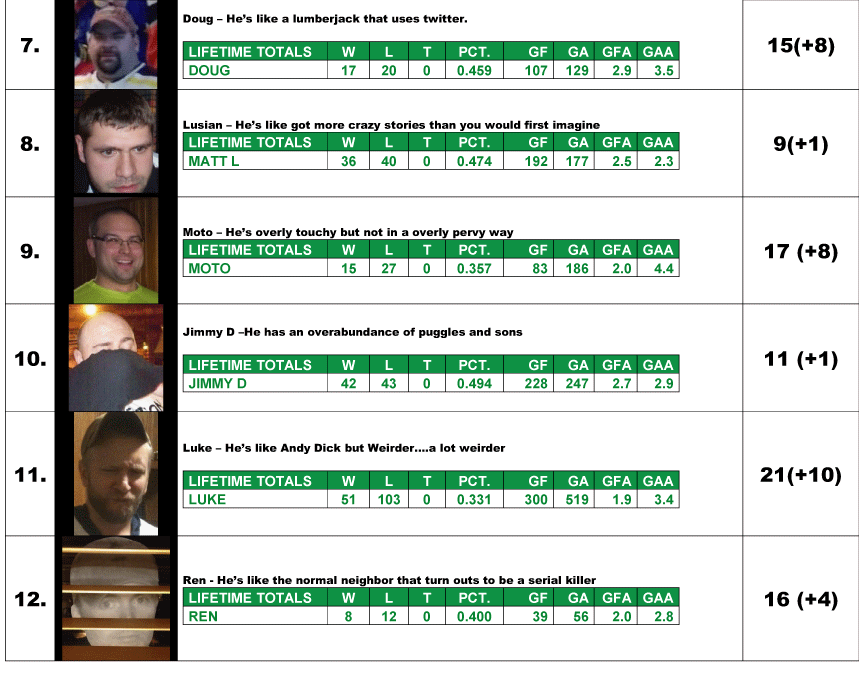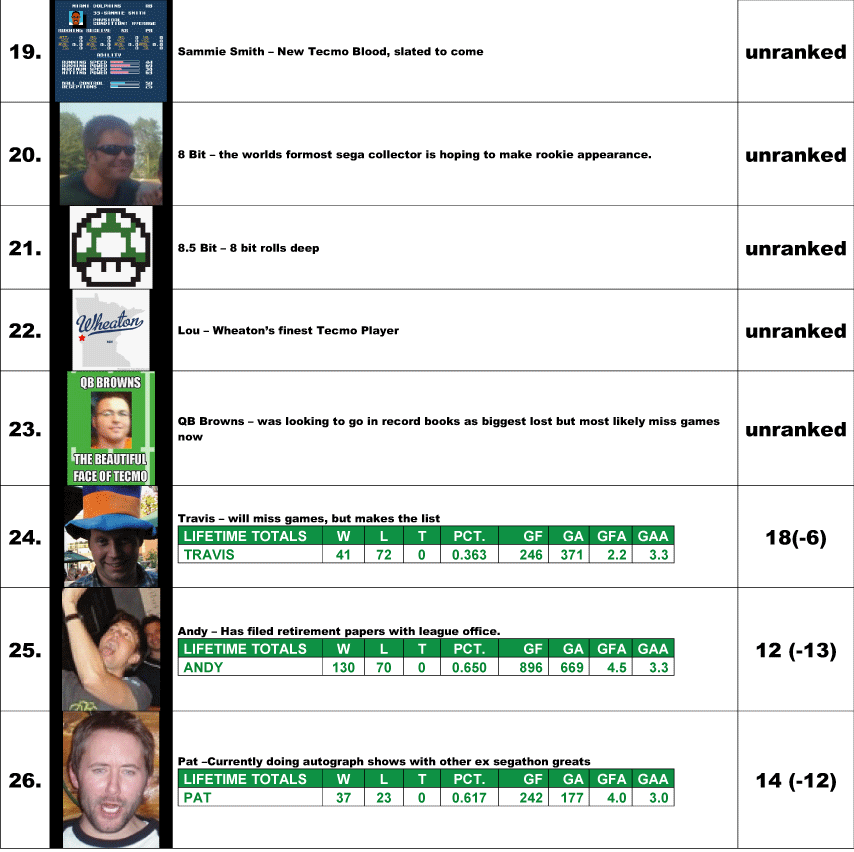 Going into the games the place was a Buzz as Segathon top-brass were going to talk to a writer from VICE,(REALLY! We aint shitten ya) about Sega Genesis NHL.
On to the games, as always things get a bit foggy during the heat of battle in a fart-filled room with too much Beer.  So we go back to the Twitter Machine to Recap the Night
We also had the whole thing going on TWITCH.com but the sound wasn't working so it has a 1920 Silent Movie Feel.
You can see the past broadcast here. https://www.twitch.tv/videos/121840217
Ben in a Mighty Ducks Jersey and Blair in a Cannibal Corpse Shirt ready to rumble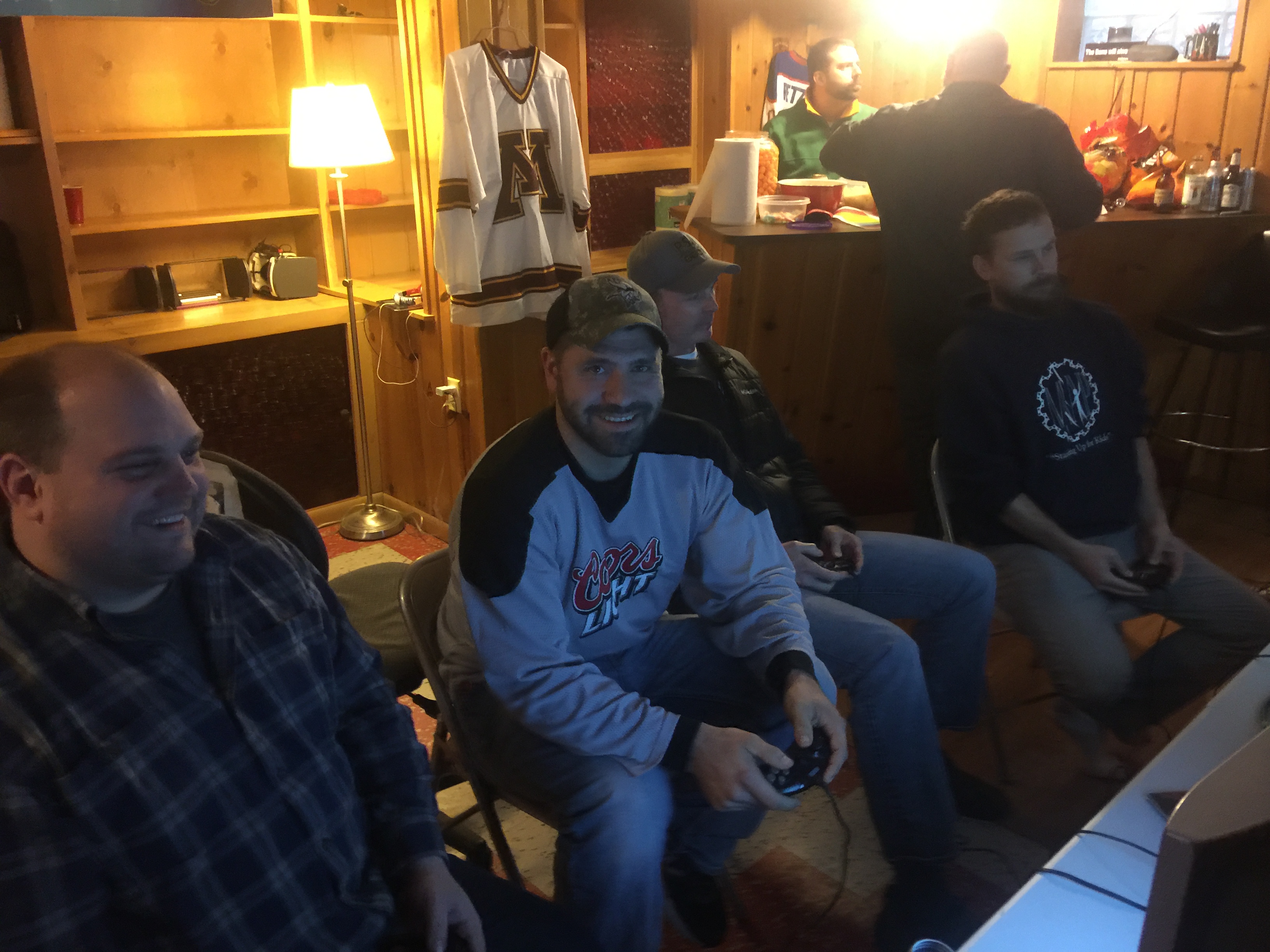 Guys on the Stream Stations
Divisions as always were named after a current event.  Jud had picked a Melania and Ivanka Trump due to their notoriety & the good pics we could use.  Nick had called Jud right before the games to recommend this and Jud Replied "already drawn up on the boards".  These Segathoners turn to one mind when it comes tourney time.
The Melania Division was looking the toughest as it Had Nate #1, Brandon #2 & Blair #4 in it but then Segathon was ROCKED when Nate withdrew from the Tourney do to Work stuff.
With Nate the Great not playing there was a power vacuum like when a South American Drug Dealer goes to Prison.  Much chaos as all the subordinates fight for control of power.
Here's a couple great Reg Season games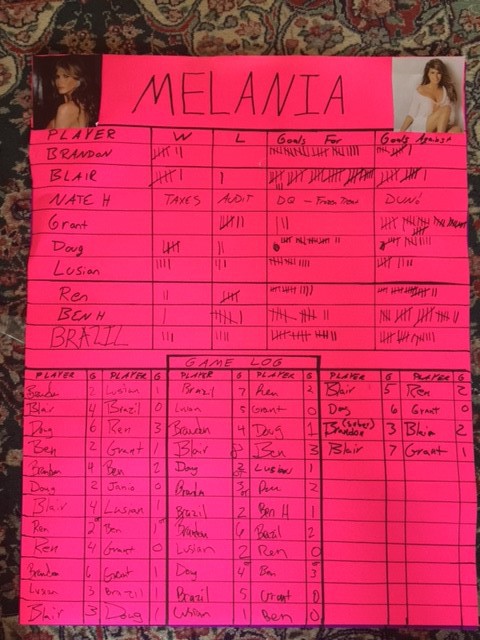 In Melania 98er Brandon took top spot with Blair nipping at his heels.  Doug keeps his grove with only 2 loses while Lusian and Joe fight out the middle.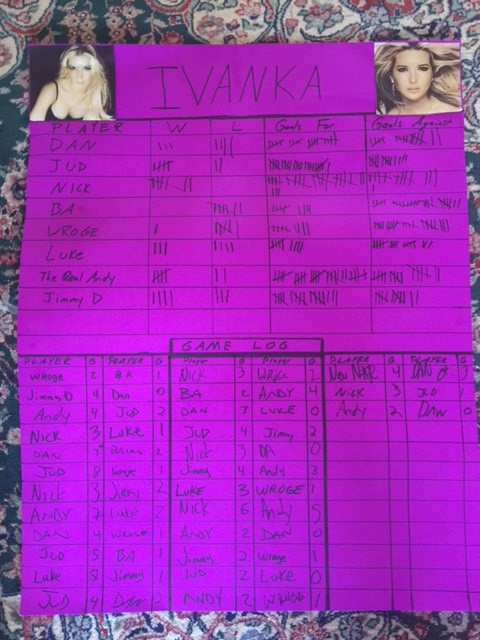 Nick goes undefeated, declares himself the "New Nate" and shits in the bathroom and yells "nobody piss on my shit until I'm beaten"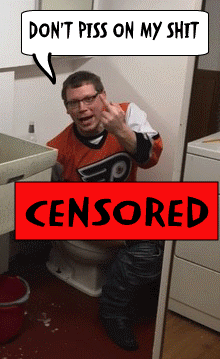 In the rest of Ivanka, New Andy upsets Jud and takes 2nd place.  Rest of the 97ers duke it out below with Luke closing in on Dan's spot in Ryder Cup this year.
As always there are laggerts and to start the Playoffs on Time BA does something amazing playing 2 games at once
He loses both and from what we can piece together from the rest of the night he blamed the Chairs.
Playoffs start with a round of Shots
Games were Close, Intense, and many chairs were thrown (All by BA, who affectionately was called "Chair Guy" on live stream)
4th Place Game part 2, see whole game on youtube channel
3rd Place Game part 2  See whole game on youtube channel
Final game Part 3, See whole game on youtube channel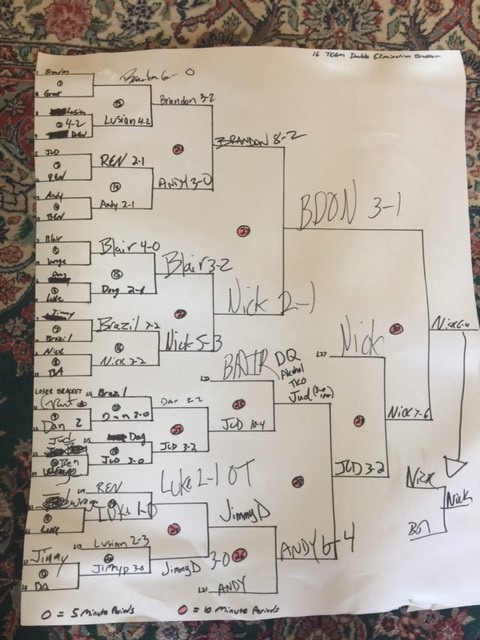 The Bracket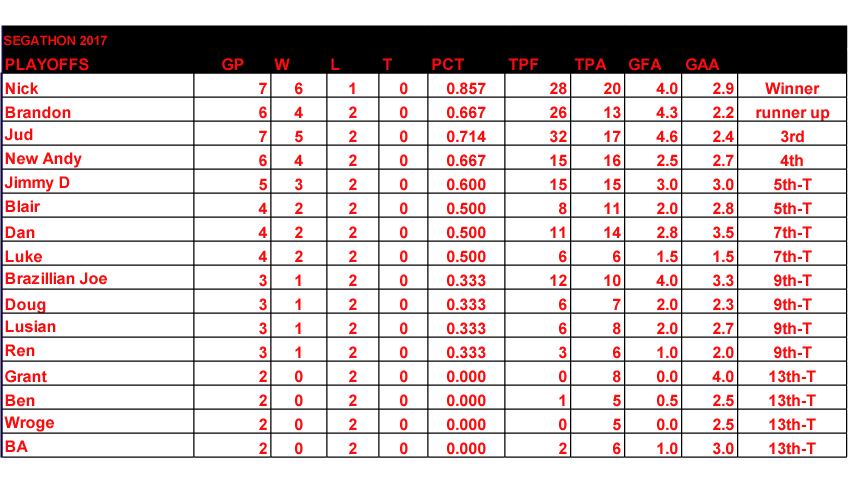 In beginning major upset as #12 Ren takes down #5 Jud.
Tough matches with Lusian vs Dan, Doug vs Luke, & Jimmy D vs Brazil Joe in 1st rnd.
Brandon goes unbeaten in Winner Bracket Final while Jud gets a DQ over Blair who was hiding in Closet.
Then Jud has tough match Against Andy, only to lose in a shoot out to Nick 6-7 with Chairs flying and pokes to Throat by BA.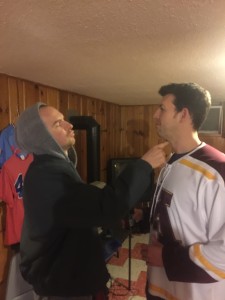 In the End Brandon and Nick Battle with everyone gone (As always, need to get competition committee to figure a way to speed up games so there is a crowd to watch).
Brandon got out of his groove and drunk waiting for the Losers Bracket and Nick "The New Nate" beats him twice
Post Game, BA  shows back up and loses fight with chair and Brando Patches him up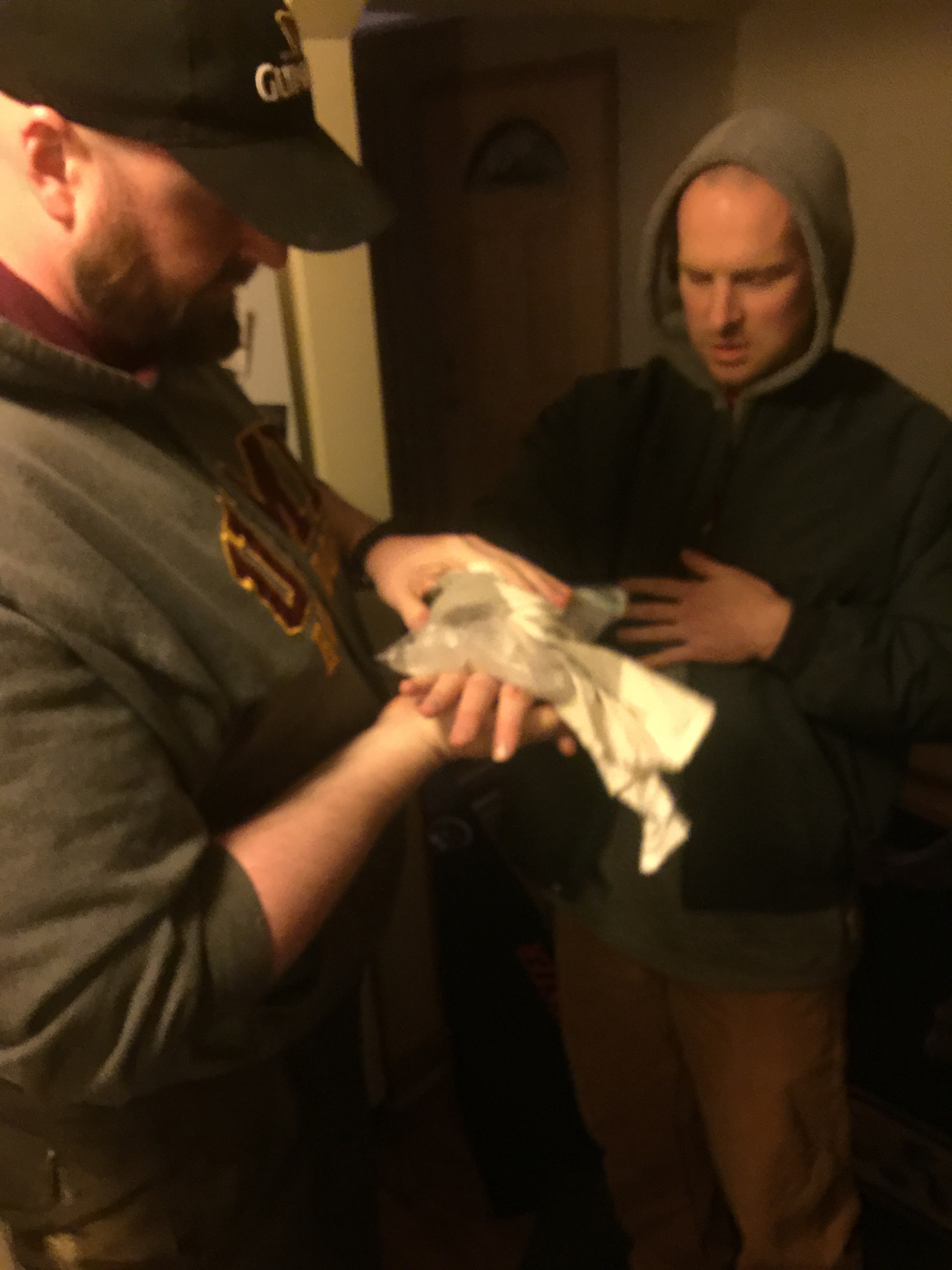 Finally Quote Board, big Fake News Campaign to get Brandon DQ'd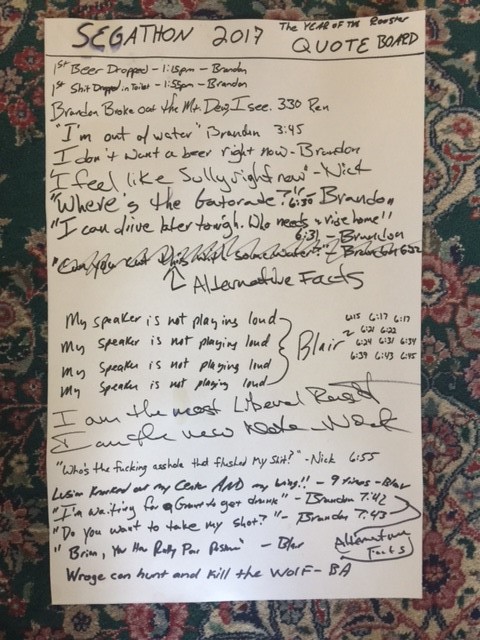 Finally updated lifetime totals
| LIFETIME TOTALS | GP | W | L | T | PCT. | GF | GA | GFA | GAA |
| --- | --- | --- | --- | --- | --- | --- | --- | --- | --- |
| JUD | 265 | 171 | 92 | 2 | 0.645 | 1205 | 811 | 4.5 | 3.1 |
| BRANDON | 263 | 174 | 89 | 0 | 0.662 | 1177 | 842 | 4.5 | 3.2 |
| NICK | 261 | 173 | 86 | 2 | 0.663 | 1071 | 947 | 4.1 | 3.6 |
| BLAIR | 248 | 169 | 78 | 1 | 0.681 | 1188 | 710 | 4.8 | 2.9 |
| NATE | 247 | 207 | 40 | 0 | 0.838 | 1428 | 574 | 5.8 | 2.3 |
| DAN | 204 | 99 | 105 | 0 | 0.485 | 656 | 646 | 3.2 | 3.2 |
| ANDY | 200 | 130 | 70 | 0 | 0.650 | 896 | 669 | 4.5 | 3.3 |
| LUKE | 165 | 56 | 109 | 0 | 0.339 | 317 | 544 | 1.9 | 3.3 |
| GRANT | 153 | 13 | 140 | 0 | 0.085 | 130 | 685 | 0.8 | 4.5 |
| TRAVIS | 113 | 41 | 72 | 0 | 0.363 | 246 | 371 | 2.2 | 3.3 |
| JIMMY D | 97 | 49 | 48 | 0 | 0.505 | 261 | 277 | 2.7 | 2.9 |
| PATTERSON | 94 | 25 | 69 | 0 | 0.266 | 166 | 366 | 1.8 | 3.9 |
| MATT L | 86 | 41 | 45 | 0 | 0.477 | 212 | 194 | 2.5 | 2.3 |
| MARC | 78 | 29 | 49 | 0 | 0.372 | 142 | 248 | 1.8 | 3.2 |
| WROGE | 70 | 15 | 55 | 0 | 0.214 | 90 | 263 | 1.3 | 3.8 |
| BEN | 66 | 20 | 46 | 0 | 0.303 | 108 | 168 | 1.6 | 2.5 |
| PAT | 60 | 37 | 23 | 0 | 0.617 | 242 | 177 | 4.0 | 3.0 |
| LEE | 56 | 32 | 24 | 0 | 0.571 | 181 | 145 | 3.2 | 2.6 |
| DAVE | 53 | 7 | 46 | 0 | 0.132 | 38 | 212 | 0.7 | 4.0 |
| BRAZILLIAN JOE | 48 | 21 | 27 | 0 | 0.438 | 119 | 156 | 2.5 | 3.3 |
| DUSTIN | 47 | 29 | 18 | 0 | 0.617 | 162 | 126 | 3.4 | 2.7 |
| DOUG | 47 | 23 | 24 | 0 | 0.489 | 135 | 150 | 2.9 | 3.2 |
| MIKE | 47 | 16 | 31 | 0 | 0.340 | 66 | 133 | 1.4 | 2.8 |
| KARL | 47 | 13 | 34 | 0 | 0.277 | 61 | 138 | 1.3 | 2.9 |
| MOTO | 42 | 15 | 27 | 0 | 0.357 | 83 | 186 | 2.0 | 4.4 |
| NEW ANDY | 40 | 25 | 15 | 0 | 0.625 | 136 | 82 | 3.4 | 2.1 |
| BA | 37 | 10 | 27 | 0 | 0.270 | 74 | 134 | 2.0 | 3.6 |
| BILLY | 36 | 28 | 8 | 0 | 0.778 | 167 | 70 | 4.6 | 1.9 |
| RENNEKE | 35 | 22 | 13 | 0 | 0.629 | 125 | 68 | 3.6 | 1.9 |
| MOGY | 35 | 16 | 19 | 0 | 0.457 | 50 | 117 | 1.4 | 3.3 |
| DW | 34 | 23 | 11 | 0 | 0.676 | 105 | 95 | 3.1 | 2.8 |
| REN | 30 | 11 | 19 | 0 | 0.367 | 54 | 80 | 1.8 | 2.7 |
| PROMDEN | 28 | 23 | 5 | 0 | 0.821 | 162 | 80 | 5.8 | 2.9 |
| JARED | 25 | 9 | 16 | 0 | 0.360 | 89 | 121 | 3.6 | 4.8 |
| COLIN | 20 | 5 | 15 | 0 | 0.250 | 19 | 46 | 1.0 | 2.3 |
| ZEKE | 19 | 7 | 12 | 0 | 0.368 | 41 | 53 | 2.2 | 2.8 |
| HOLMBERG | 18 | 1 | 17 | 0 | 0.056 | 10 | 98 | 0.6 | 5.4 |
| BOOTH | 16 | 0 | 16 | 0 | 0.000 | 17 | 76 | 1.1 | 4.8 |
| VOSSEN B | 14 | 7 | 7 | 0 | 0.500 | 33 | 47 | 2.4 | 3.4 |
| BOSTON ALAN | 13 | 9 | 4 | 0 | 0.692 | 65 | 45 | 5.0 | 3.5 |
| LEGLER | 13 | 7 | 6 | 0 | 0.538 | 52 | 49 | 4.0 | 3.8 |
| TED | 13 | 6 | 7 | 0 | 0.462 | 30 | 31 | 2.3 | 2.4 |
| BOSTON MATT | 12 | 9 | 3 | 0 | 0.750 | 50 | 29 | 4.2 | 2.4 |
| BOSTON WALTER | 12 | 8 | 4 | 0 | 0.667 | 31 | 31 | 2.6 | 2.6 |
| WATERS | 12 | 4 | 8 | 0 | 0.333 | 19 | 38 | 1.6 | 3.2 |
| BRETT W | 11 | 4 | 7 | 0 | 0.364 | 24 | 29 | 2.2 | 2.6 |
| DETRIOT JOE | 11 | 4 | 7 | 0 | 0.364 | 21 | 27 | 1.9 | 2.5 |
| HAYES | 10 | 6 | 4 | 0 | 0.600 | 18 | 26 | 1.8 | 2.6 |
| MARK | 10 | 5 | 5 | 0 | 0.500 | 25 | 26 | 2.5 | 2.6 |
| BOSTON CHRIS | 10 | 5 | 5 | 0 | 0.500 | 30 | 24 | 3.0 | 2.4 |
| BOSTON DAVE | 10 | 4 | 6 | 0 | 0.400 | 22 | 25 | 2.2 | 2.5 |
| SULLY | 10 | 3 | 7 | 0 | 0.300 | 14 | 39 | 1.4 | 3.9 |
| BOSTON JIM | 10 | 3 | 7 | 0 | 0.300 | 19 | 44 | 1.9 | 4.4 |
| ONEIL | 10 | 2 | 8 | 0 | 0.200 | 16 | 43 | 1.6 | 4.3 |
| BOSTON JOE | 10 | 2 | 8 | 0 | 0.200 | 20 | 40 | 2.0 | 4.0 |
| DAN NATE | 10 | 2 | 8 | 0 | 0.200 | 14 | 44 | 1.4 | 4.4 |
| PETE | 10 | 0 | 10 | 0 | 0.000 | 9 | 45 | 0.9 | 4.5 |
| RATH | 10 | 0 | 10 | 0 | 0.000 | 2 | 56 | 0.2 | 5.6 |
| BRETT | 9 | 4 | 5 | 0 | 0.444 | 21 | 29 | 2.3 | 3.2 |
| STURGY | 9 | 3 | 6 | 0 | 0.333 | 15 | 28 | 1.7 | 3.1 |
| ELSWORTH | 9 | 3 | 6 | 0 | 0.333 | 15 | 28 | 1.7 | 3.1 |
| BRYAN | 9 | 2 | 7 | 0 | 0.222 | 11 | 19 | 1.2 | 2.1 |
| JON | 9 | 2 | 7 | 0 | 0.222 | 5 | 31 | 0.6 | 3.4 |
| VOSSEN | 9 | 2 | 7 | 0 | 0.222 | 11 | 22 | 1.2 | 2.4 |
| BOSTON RYAN | 9 | 2 | 7 | 0 | 0.222 | 12 | 23 | 1.3 | 2.6 |
| BISON BEN | 9 | 1 | 8 | 0 | 0.111 | 5 | 29 | 0.6 | 3.2 |
| TREVOR | 9 | 1 | 8 | 0 | 0.111 | 6 | 40 | 0.7 | 4.4 |
| KUZEL | 8 | 5 | 3 | 0 | 0.625 | 24 | 17 | 3.0 | 2.1 |
| CARL | 8 | 2 | 6 | 0 | 0.250 | 10 | 27 | 1.3 | 3.4 |
| ERIK | 8 | 2 | 6 | 0 | 0.250 | 11 | 37 | 1.4 | 4.6 |
| SHAWN | 8 | 2 | 6 | 0 | 0.250 | 10 | 25 | 1.3 | 3.1 |
| WOODY | 8 | 1 | 7 | 0 | 0.125 | 4 | 42 | 0.5 | 5.3 |
| NELSON | 8 | 1 | 7 | 0 | 0.125 | 17 | 28 | 2.1 | 3.5 |
| MADDEN | 8 | 1 | 7 | 0 | 0.125 | 6 | 37 | 0.8 | 4.6 |
| NEIL | 8 | 0 | 8 | 0 | 0.000 | 5 | 24 | 0.6 | 3.0 |
| EVAN | 7 | 3 | 4 | 0 | 0.429 | 14 | 19 | 2.0 | 2.7 |
| ALEX | 7 | 2 | 5 | 0 | 0.286 | 11 | 17 | 1.6 | 2.4 |
| TERRY | 7 | 1 | 6 | 0 | 0.143 | 6 | 22 | 0.9 | 3.1 |
| SCOTT | 7 | 1 | 6 | 0 | 0.143 | 14 | 23 | 2.0 | 3.3 |
| CARLOS | 7 | 0 | 7 | 0 | 0.000 | 5 | 26 | 0.7 | 3.7 |
| PARKER | 5 | 1 | 4 | 0 | 0.200 | 8 | 12 | 1.6 | 2.4 |
| GREG | 3 | 1 | 2 | 0 | 0.333 | 5 | 12 | 1.7 | 4.0 |
| TOM | 3 | 1 | 2 | 0 | 0.333 | 16 | 22 | 5.3 | 7.3 |
| GOLBY | 2 | 0 | 2 | 0 | 0.000 | 2 | 9 | 1.0 | 4.5 |